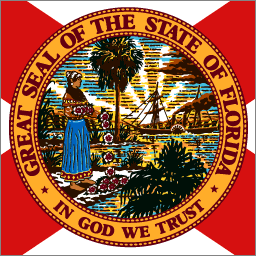 In 2014, the Florida Legislature passed Senate Bill 1030 . Known as the Compassionate Medical Cannabis Act of 2014, it was signed into law by Governor Rick Scott on June 16, 2014. The bill provides a mechanism for patients to obtain low-THC cannabis oil for the treatment of certain conditions. This is a landmark bill as the State of Florida now recognizes some medicinal benefit to cannabis. Low-THC cannabis is more specifically defined as a plant of the genus Cannabis that contains .08 % or less of tetrahydrocannabinol and more than 10% of cannabidiol. This low-THC cannabis oil can be prescribed by a physician licensed under chapter 458 or 459 to a patient "suffering from cancer or a physical medical condition that chronically produces symptoms of seizures or severe and persistent muscle spasms." Of note, the Bill was very restrictive as to who can even apply to be a Dispensing Organization. As a pre-requisite, the applicant must have operated as a registered nursery in Florida for at least 30 continuous years. In addition, the applicant must employ a physician, have specified background checks for owners/employees, and be able to grow a designated amount of low-THC cannabis.
The Bill tasked the Department of Health with creating the Office of Compassionate Use, to promulgate Regulations implementing the Bill. On July 7, 2014, the Department released its first draft of Chapter 64-4, Florida Administrative Code. Among other things, the draft provided that it would authorize five dispensing organizations to provide low-THC cannabis to qualifying patients. The Dispensing Organizations will each be located in one of the five Dispensing Regions of the State. MCS paid particular attention to the sections devoted to testing and quality control, as this is an area where regulations are lacking in other states where medicinal cannabis has already been legalized. Sec. 64-4.006, entitled "Identification, Labeling and Testing of Low-THC Cannabis Plants and Products," provides that each batch of the product must be tested by an "accredited testing laboratory" to ensure that it has .08 % or less of THC and more than 10 % of CBD. It also required testing for "[a]ll chemical additives, including nonorganic pesticides, herbicides, and fertilizers" used in the cultivation of the cannabis.
While MCS was pleased to see that a specific section was devoted to testing, we felt that it was inadequate and that certain clarification was needed. A Rule Development Workshop was held in Tallahassee on July 7, 2
014. MCS attended and offered comments regarding testing. Specifically, MCS suggested adding a definition of "accredited testing laboratory," as it was otherwise undefined, and cross-referencing regulations already in place for environmental testing laboratories. MCS also expressed concern as there was nothing provided for the transportation of the products to and from the Dispensing Organizations and laboratory. MCS also suggested limiting the number of laboratories in order to ensure uniform methodologies. Finally, MCS recommended that the Department specifically require tests for residual solvents used in the cannabinoid extraction process, heavy metals, and microbiological organisms.
The Department subsequently issued a second draft of the regulations on August 1, 2014. In it, the Department removed "accredited testing laboratory" and instead provided that all testing must be done by "a department approved testing laboratory." Notably, this draft specifically establishes that laboratories must test the product for solvents, microbials, myotoxins, and heavy metals. MCS also attended this workshop to express our gratitude with the Department for moving so quickly and to offer
additional suggestions regarding the next draft of Regulations. While MCS believes that the the only way to ensure that medication is safe is to have independent, third party testing, the Bill does not provide any sort of immunity from arrest or prosecution for a testing laboratory. We questioned whether the Department had the authority to seemingly provide such immunity to an approved laboratory to perform testing on low-THC cannabis as required by the Bill.
The third draft was released by the Department and a public hearing was held on September 5, 2014. For the most part, there was little substantive change to section Sec. 64-4.006. However, the Department did require testing for certain bacteria and molds. The issue regarding immunity for testing laboratories and/or those tasked with transporting the product between the Dispensing Organization was not addressed. MCS attended the hearing and offered a few additional comments regarding the Regulations. Although MCS is poised to provide this testing required by the Regulations, the Bill did not adequately address immunity for the laboratories. This is curious as the Bill specifically requires that a batch  must meet certain cannabinoid profiles, which can only be determined by a laboratory, but no laboratory can possess the product for fear of prosecution. This will undoubtedly be addressed in any future legislation related to medical cannabis in Florida. Nevertheless, MCS appreciated the opportunity to be heard by the Department and to observe the process. Some subsequent changes have been made and the Bill will be effective January 1, 2015.
Colloquially, this bill has been referred to as the "Charlotte's Web" Bill. This is a reference to Charlotte Figi, a six year old suffering from Dravet Syndrome that was having approximately 300 grand mal seizures a week. Unable to find effective treatment, her family turned to low-THC cannabis. Miraculously, Charlotte's seizures diminished almost immediately.  The Figis came in contact with the Stanley brother in Colorado, who were crossbreeding a cannabis strain that was high in CBD and low in THC.  Although this strain was not popular amongst those that used cannabis recreationally, it was just what the Figis needed. The strain was called Charlotte's Web. The Stanley brothers have subsequently founded the Realm of Caring Foundation to provide this strain to patients that can't afford treatment. Charlotte Figi now only has a few seizures a month and is able to grow up like a normal child. This story, and other's like it, is why MCS is so passionate about the use of cannabis and cannabis-derived products for the treatment of debilitating conditions.